In my last post I went over some of the upgrades we are doing to the house. I figured I should update everyone on how that is going.
We added a few things to the list. In addition to the AC, windows, insulation and solar panels we decided it was time to paint the outside since it hadn't been painted since we moved in at the end of 1999.
The house was kind of yellow when we moved in but it wasn't newly painted then. Every year I kept thinking we should look into painting and finally along with all the other stuff we decided to bite the bullet even though it wasn't an energy upgrade.
We decided on a light gray with dark gray trim. I think it looks very nice now.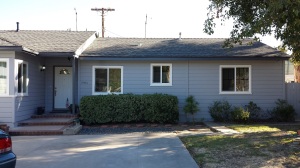 We also decided it was time to remove the carpet that was used as a liter box by our old blind cat Jasmine during her last year or so of life. We knew there was a hardwood floor underneath but had no idea what shape it was in. As it turned out it was in great shape.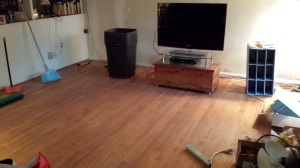 We also replaced the dishwasher that we bought shortly after we got married in 1994. I would walk into the kitchen and see Betty or Michelle or Jen hand washing dishes and then putting them in the dishwasher. I couldn't understand why you would even put them in the dishwasher if you had to wash them by hand anyway but apparently I don't know much about such things. We replaced it with a Bosch unit that cleans the dirtiest dishes very well. It even has a water softener even though our water isn't that hard.
We also figured if we were going to do the floors then we should pull off the old wallpaper and do some painting. When we pulled it off over by the shower in our master bath the wall was darkish. When we pulled up the carpet it was clear there had been some water damage. We called a plumber out and he opened the wall and found that our pipes had been leaking along with the shower pan. Because it was going to cost a lot to re-tile the shower I decided to rip it out and replace it with a fiberglass one that is more modern. The whole shower/leak thing wasn't in our budget but it needed to be done so we did.
We also replaced the old couch we bought shortly after we got married with a sectional with recliners. That won't show up until after the floor is done.
And finally I ordered a 70″ Sharp Q+ TV that is going to go over the fireplace. It will turn that room into a theater. I originally thought about getting a 4K TV but after talking to Ken H. about it he convinced me it would be better to get a little larger 1080p as the 4K technology is still in it's infancy. There is also a limit as to how good something looks based on your distance from it and a 70″ 1080p will look about as good as a 60″ 4K from the distance we will be viewing.
The final thing we are probably going to do is a hot tub but that's going to wait until we get the solar panels.
Lots of upgrades and now you are up to date.